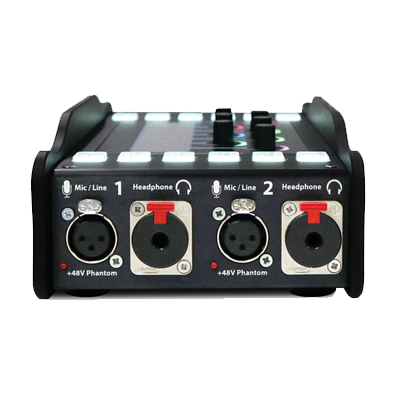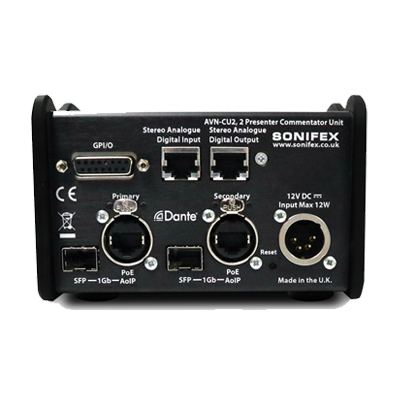 The Sonifex AVN-CU2-DANTE is a portable commentator unit. Using Dante® AoIP together with 4 wire connections the AVN-CU2-DANTE bridges the gap between old and new technology, allowing the ease of connectivity & functionality of AoIP, together with the legacy connections needed to operate with the existing infrastructure in some stadia and sports grounds.
This new Dante® commentary unit has been beautifully designed and is smaller than the existing Sonifex CM-CU1 single 4-wire unit whilst packing in more features. It's been designed from the ground up to be configurable for different situations with config files that can be saved and recalled for quick setup. Additionally, buttons and rotary enoders can be locked out from use, if the unit is being operated by less-technical commentators.
The unit supports up to 16 input and output AoIP channels and up to 16 simultaneous input and output AoIP streams. Stream setup to and from the unit is initially via Dante® Controller with more detailed configuration performed using the built-in web GUI. The power of this unit lies in the impressive mix engine which overlays the usual Dante® Controller settings. Once Dante® flows have been made, the mix engine allows inputs and outputs to be mixed freely to AoIP or physical inputs and outputs, controlled using the programmable buttons and rotary encoders on the unit. Remote operation* of the unit is available using the Web-GUI allowing independent control of it from any network connected area.
The AVN-CU2-DANTE provides two locking mic/line inputs, each with +48V phantom power indication and a wide, adjustable gain range. It has two stereo headphone outputs with locking 6.35mm jack sockets, suitable for operation by two commentators. It's powered using Power over Ethernet (PoE), using Neutrik EtherCON connectors, with primary and secondary ports for power and data redundancy. There's an additional 4 pin XLR 12V DC input.
The 6 x push-button rotary encoders and 12 x key-cap buttons are fully configurable, to control input & output levels and panning.
Each rotary encoder has a separate colour-coded meter section showing the channel name, detailed level metering, left/right panning and a limiter indication, on a bright daylight reading display. Colours can be programmed per encoder to quickly identify particular source groups, so headphone source selection becomes intuitive.
Metering is available per input/output, with output metering configurable as pre or post level adjustment. The top of the display shows output metering, a limiter indication and the name of the output. A limiter is available on every output.
Four wire I/O on rear panel RJ45 connectors provide an AES3 or analogue input and output that can be assigned as mic outputs (line level), talkback outputs, programme inputs or talkback inputs as desired.