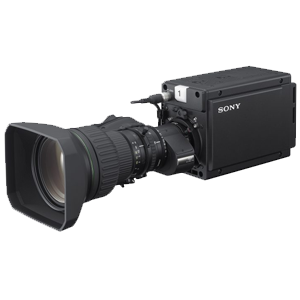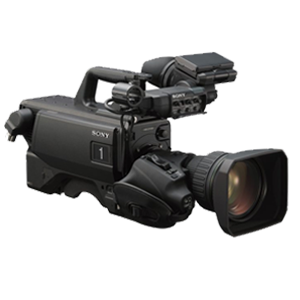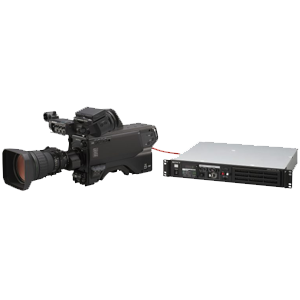 Sony showed four new live production system cameras at IBC 2018. All four shoot 4K/HD HDR video. Among them, the HDC-P50 and HDC-3500 are unusual for their 2/3-inch 4K three-CMOS sensor system with global shutter, and the HDC-3100 and HDC-3170 have a new HD HDR optical block.
The HDC-P50 is a compact, lightweight, POV system camera with a 2/3-inch 4K global-shutter three-CMOS sensor system developed for wide dynamic range. The system precisely aligns three 4K sensors on a new type of prism, and can achieve the wider ITU-R BT.2020 broadcast standard colour space, improving the quality of images that the camera can capture for 4K live productions. It outputs sharp 4K/HD HDR signals directly from the camera body so that live images can be delivered in various shooting configurations, for example, combined with a camera stabiliser, in handheld mode, during wireless shooting or while filming aerial shots from a helicopter.
The HDC-3500 is portable and expands the capabilities of the current HDC-2000 series of multi-format HD cameras that are built to integrate into existing live production infrastructures. The HDC-3500 captures a high enough level of detail for HD and 4K production, plus wider dynamic range. Thus, the system camera supports HD, HDR and 4K, as well as IP capabilities. The HDC-3500 also has an exchangeable transmission side panel. Users can choose any of Sony's three optional side panels for triax, fibre or wireless transmission, depending on their operations, which can be switched via the side panel interface. An assigned number for each camera is indicated by Electronic Paper Display on the camera body.
HDC-3100 fibre camera and HDC-3170 triax system camera, which have 2/3-inch CMOS sensors with global shutter capture, are made for productions working primarily in HD with the occasional need for 4K, achieved by correctly. Both systems are capable of HDR and are SMPTE ST2110 compatible. The HDC-3170 supports 3rd generation digital triax systems and is capable of connecting over distances up to 1800m.